Why you should hire a wedding planner | Wedding Wednesday | Cary, NC
You're engaged!  You're planning a wedding! You're…overwhelmed! What's a bride to do?
Instead of thinking you can do everything all of the time, consider reaching out and asking for help when it comes to your big day.  Hire a wedding planner. You read that correctly…Hire.  A. Wedding. Planner.
Sure, you've planned events and you want to be intimately involved with all the details, but what about being kind and treating yourself to someone who is experienced, knows the industry, and will let you enjoy your wedding day?  Allow me to introduce Gineen Cargo – owner and Certified Wedding Planner – who is leading the charge at Cargo & Co. Events.  Gineen is based out of Cary, North Carolina, and she has her passport ready for travel worldwide.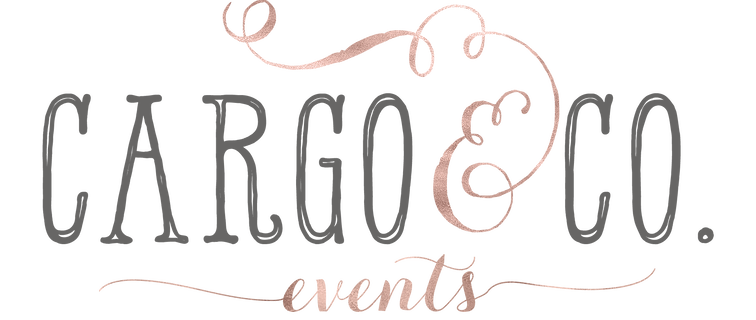 When asked, "What do you wish brides knew when booking your to plan their wedding?" Gineen had a lot to say:
"When you book Cargo & Co. Events, you are always going to receive more in value that what's stated in our packages.  Brides often need to select a planner based on their budget, and I understand that, but I am going to make sure that the return on your investment in always greater.  I am your personal advocate – and sometimes concierge – during the wedding planning process."
Wondering how she does it?  Gineen believes it is important to be working behind the scenes to support each of her clients.  Whether it's negotiating discounts on pricing or getting an appointment with a hard-to-get florist, baker, or photographer, Gineen is your go-to gal.

Not only does she work tirelessly for each bride, she also views her role as a wedding planner akin to a teacher of the industry.  She loves the brides that ask questions, define their own personal likes, and want to style their weddings as a form of self-expression.
Gineen shares this personal story:
"When you have a bride that's open to learning about the world of planning and the justification of costs associated it makes the job easier. While I love the bride with an unlimited budget that's hands off, my most memorable bride was one who wanted to learn about florals and design. We found ourselves out in the thrift and vintage stores working alongside each other to find cool pieces to frame and design her day. At the end of her wedding day I found myself weeping as it was if my close friend was getting married."
So how do brides find this wedding planning extraordinaire?  She'll tell you herself, "Most brides find me through word of mouth or at an actual event as they are able to experience and appreciate my work. Other than that I have a presence on Wedding Wire, The Knot, Instagram, Periscope, Pinterest.
Gineen is also a mom of 2 active boys under 5 so she's found herself meeting brides-to-be at local playgrounds, community centers, and even while out shopping.  Instead of trying to run into her in the produce section of your local grocery store, go to her website or e-mail her to inquire about your next event.  This girl is on fire!
W: www.cargoandcoevents.com
E: hello@cargoandcoevents.com