Senior Portrait Session | The University of North Carolina at Chapel Hill
June is the time of year we reserve for our dads and grads, and in this blog post, I want to address our grads.  This has been a weird year, I know.  The end of the school year was supposed to be a celebration of your years of hard work. If you played sports, this may have been the last fall season you got to play on a team and within a community.  That said, I am not one to let any of us feel sorry for ourselves.  Our plans for 2020 may look different now than when we rang in this new year.  We've had to realign our own expectations of what we can do.  That said, celebrating our graduates who have worked so hard to be where they are now does not change.  Maybe it's not the walk across the stage we were all expecting.
But hold on…
How many of us who have graduated high school or college remember that stage walk?  (This year's drive-by graduations, principals and teachers stopping by, and remote connections…we will all remember those!)
A couple of weeks back, I was photographing a sweet gal for her graduation portrait, and her mom and I got to talking.  Neither of us remembered the actual walk across the stage.  We remembered the anticipation of getting ready and sitting in rows with our classmates. We remembered taking photos, the smiles and the laughter, the friends and the hugs after the ceremony, and even where we went to eat with our family.  The walk across the stage?  We both shook our heads, as neither of us could remember the actual walk across the stage nor the handshake with whomever was handing out diplomas.
Today is not better or worse.  It's different.
Which is why the senior portraits that I captured this year mean so much to me, as well as to the graduates and their families who stood in front of my camera.
This is not a year where things will go back to normal, and that's okay.  We are going to figure this out together, day by day. In the meantime, we will continue to smile.
When Tristan's mom reached out to me to reschedule his senior portraits due to school closures and graduation being postponed, I knew we'd do a classic senior session at the University of North Carolina at Chapel Hill.  It's hard to lose those couple of months of your senior year, and I wanted Tristan's portraits to showcase the landmarks where every day is a good day to be a tar hell (#GDTBATH).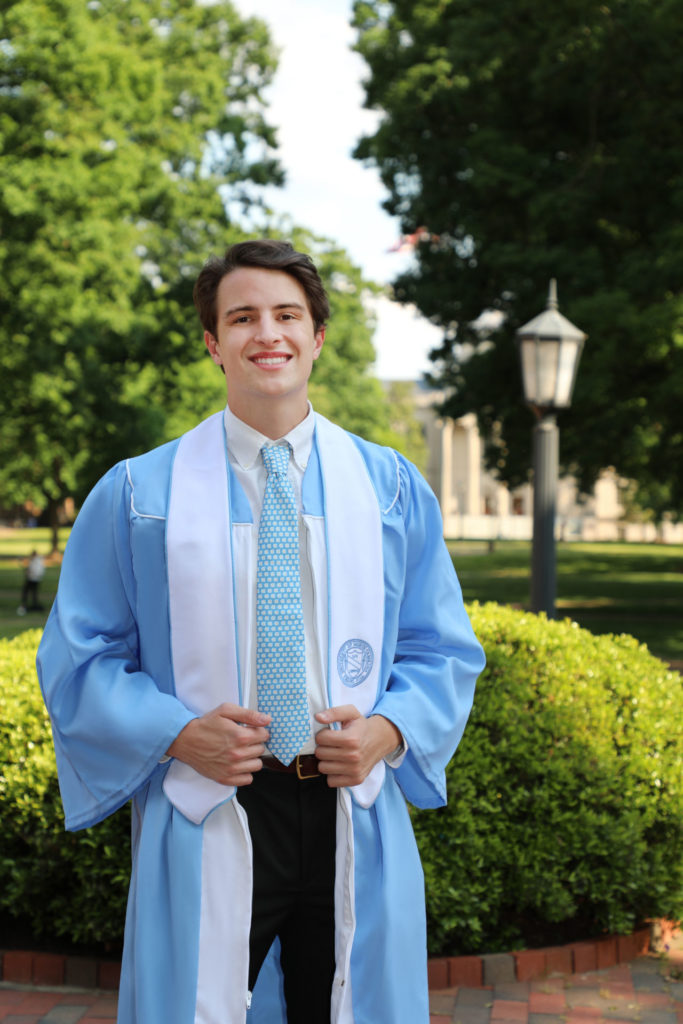 We started at the bell tower, more formally known as the Morehead-Patterson Bell Tower; this is a functioning bell tower located on campus.  Its 172-foot-tall stature with a Roman numeral clock built in on each of the four sides of the tower can be seen all over campus and is located directly across from the student stores.
Another landmark is the Old Well.  What's a trip to UNC or Chapel Hill without a photograph at the Old Well?  Whether you stood in line on the first day of classes (FDOC) to drink from the fountain or not, a photograph at the Old Well is a reminder of all our graduates have done in their time at this university.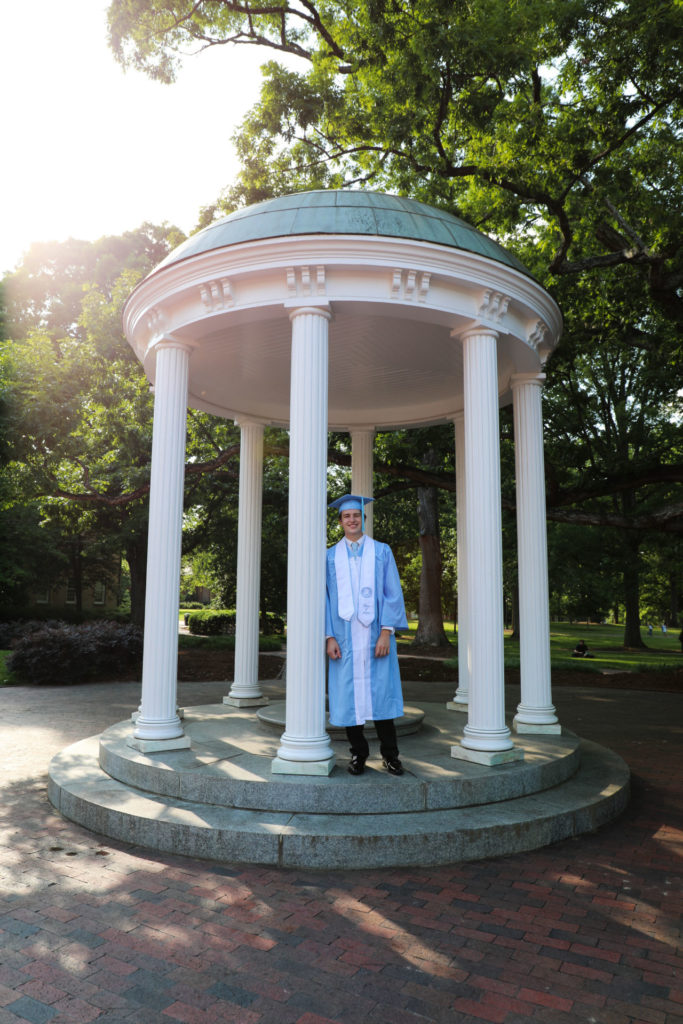 Finally, for Tristan's other landmark in his senior session, he chose the Main Quad.  There's a lot to love in the Main Quad!  For starters, there is the seal of the university, the South Building, Wilson Library, and a whole slew of memories for undergrads and the buildings where classes were held.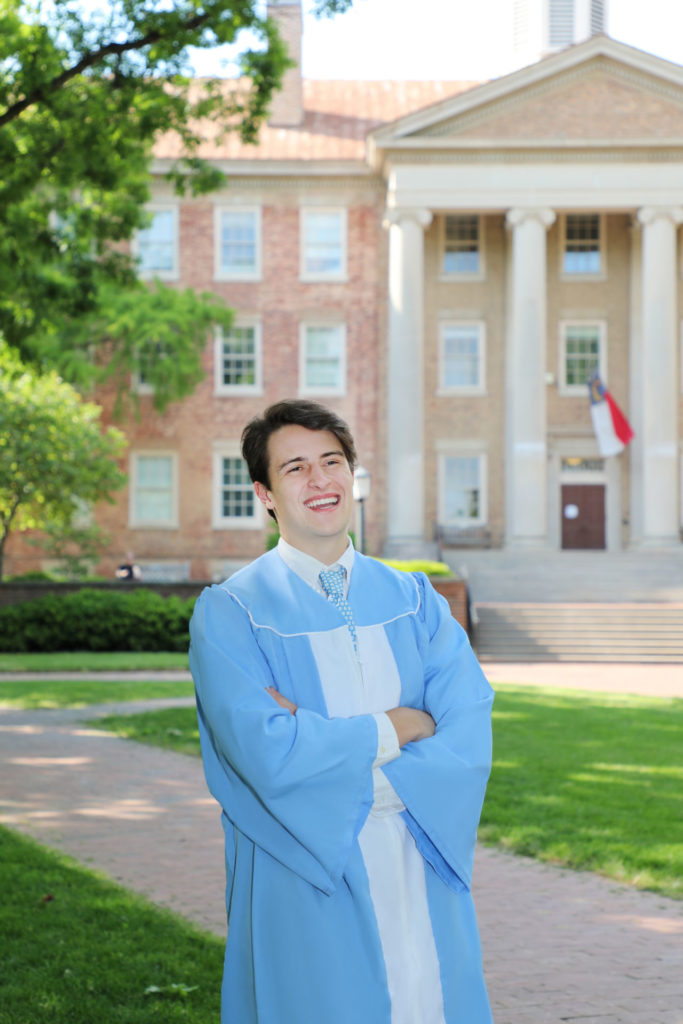 What's not to love about capturing you in your cap and gown and some of the landmarks here at the University of North Carolina at Chapel Hill?   The photographs we capture today take this one moment in time and gives us a lifetime of memories. When we look at these photographs 20 years from now, we'll remember what it was like to be a graduating senior in the midst of a global pandemic. We'll remember how everyone rallied together to make senior year memorable.  We wish Tristan the best of luck! I loved your positive and upbeat perspective as we worked together to capture your senior portraits on campus.
If your senior wants to capture this milestone year, this milestone event, contact Barbara Bell Photography.  We'd love to help create images that you love for years to come.  We believe in creating photographs to inspire families to share their memories.