Do this one thing to make your next event a success | Chapel Hill, NC
Often when people reach out to me for event photography, there is an initial question I like to ask:
"What is the most important aspect of this event for you?"
People often pause because events are multi-faceted. There is so much going on and so many components.  It's the people and the place. It's the food and the festivity. Sometimes, it's even the timing and the temperature. Even for a small dinner gathering, the details make your event the special occasion that it is.
Knowing What You Want
When Laura at St Thomas More phoned me and asked about coverage for the St Thomas More Parish Fair, yes, I wanted to know all the details of when and where and who and what…and yes, even the why. And when I asked her about the most important part of the event, she paused, and I waited. In the silence of this phone call, this moment, this waiting a beat, there's an energy that I can feel building. I've learned that my clients are looking for one word, one phrase, one 'thing' in their mind's eye, and I find myself holding my breath with anticipation.
The creative collaboration we do together as photographer and client may be my favorite part.  I've often told many of my clients this, and I love that the waiting is still as exciting to me with each phone call.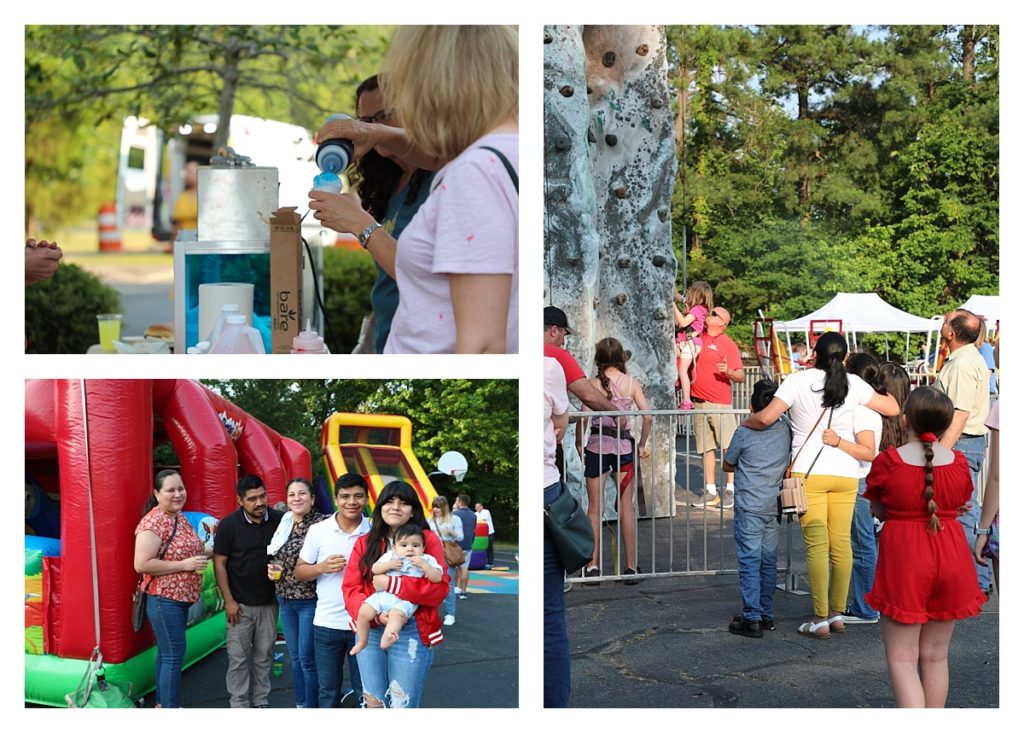 When Laura spoke, she was thoughtful in choosing her words. "I want us to capture the vibrancy of our community here."
Vibrancy and community.
Those are strong words.
Seeing is Believing
When I showed up to capture this parish fair on Saturday night, I knew in a moment her words were spot on, though. I saw it in the way people collaborated to set up the space. I saw it in the way everyone greeted one another: neighbors and newcomers, friends and family. I heard it in the shrieks of children excited for all the hallmarks of summer: cotton candy and sno-cones, a bounce house and a climbing wall, rides with friends and hamburgers on the grill.  The energy and the liveliness on this Saturday evening made me smile because – truth be told – it was everywhere. Grandparents holding grandbabies. Friends. Families. Siblings. Sunshine. All the heart eyes emojis from me.
Planning your Next Event
So, as you plan your next event, think about this: how do you want to remember your get-together? Is it a brilliant celebration of the people you love or love to work with?  Is it a wonderful opportunity to gather all your favorite people together?
Whatever it is, I encourage you to name it.
I often say to the students that I work with: if you can name it, you can have it.  This mantra also applies to the type of event you are hosting. Laura at St Thomas More asked me to capture a vibrant community at the parish fair, and that's exactly what I found.