Celebrating the Sacrament of Confirmation at St Charles Church in San Carlos, CA
I have been photographing Confirmation Masses and ceremonies for over 15 years, and I am always impressed with the Confirmandi, as well as the families and friends who join them for this sacrament in the Catholic Church.
What is Confirmation?
Confirmation is a sacrament of initiation where each Confirmand (the one being confirmed) receives a special blessing of the Holy Spirit. The bishop confers Confirmation through the anointing with Chrism, a sacramental oil, on the recipient's forehead. This is done by the laying on of the hand, while saying the words "Be sealed with the gift of the Holy Spirit."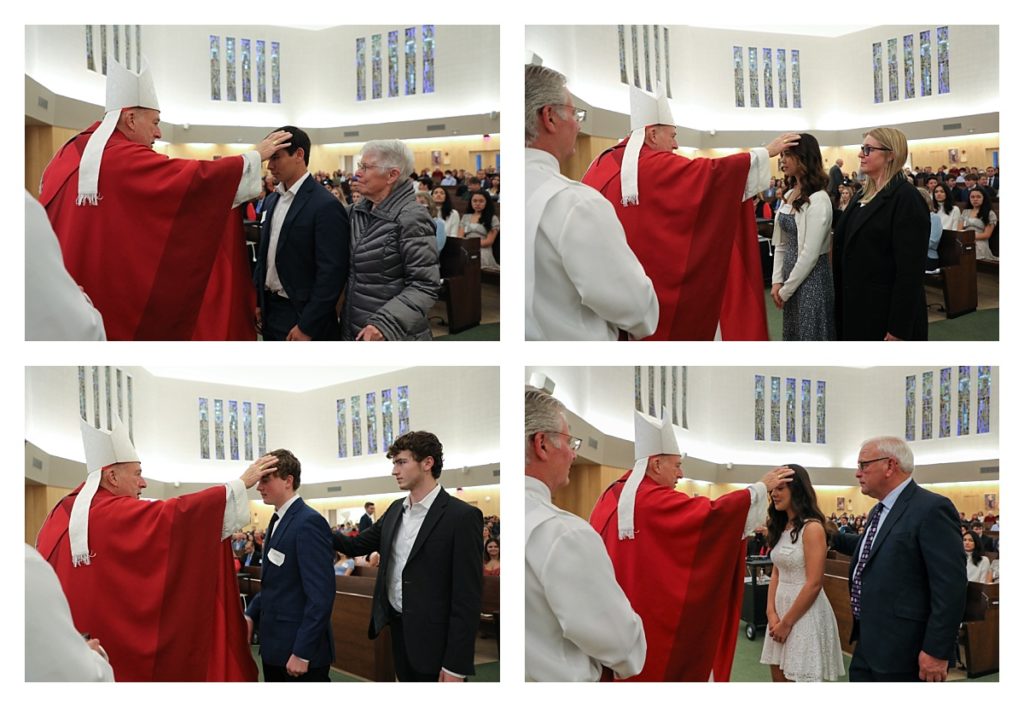 Think about those words for a moment: "Be sealed with the gift of the Holy Spirit." That is so powerful when we reflect on that.
Through this sacrament, the Holy Spirit gives each person the increased ability to practice the Catholic faith in every aspect of their lives, but what does that mean?
Confirmation is about being empowered through the Holy Spirit.
It's about the strengths, gifts, and superpowers we are each born with. It's the things we do that come easily to us.  It's often the things we take for granted, as well.  Those are our strengths.
Sermons Given at a Confirmation Mass
Often the sermon for this type of Mass is about using your strengths and honing these skills to help others. It's about shining the light that only you have. This sacrament of Confirmation is also an affirmation of belief. It's about making a commitment to being the very best version of yourself, whatever that looks like for you.
So when Bishop Robert McElroy of San Diego walked down the aisle to the opening hymn of this year's Confirmation Mass, I was looking forward to what words of wisdom he would share. He did not talk about strengths or gifts or anything else that I expected. Instead, he talked about love and more specifically, loving people.
He reminded all of us in the church that day that we needed to love people, even when it was hard. His second message was to meet people where they are.  Both are dynamic messages, and let's be honest, these are also challenging things to do. It forces each of us to be bigger than the moment we are in.
Why I Photograph at Confirmation Masses
The Bishop's words of kindness and compassion remind me why I photograph. We have this occasion, this one moment in time, where we can show up to capture and create for others. It preserves the moment. I love to capture the smiles, the laughter, and the warmth. We show up. We capture. We create. It is for each Confirmand who steps in front of my camera. It is for the sponsors who support them on this journey. It is for families who celebrate together. It is for friends and peers and classmates to gather together in the name of a shared faith.