What to wear with spring weather and summer temps arriving in North Carolina
If these summer temps have you searching your closet, consider treating yourself to a few summer pieces that will keep you cool – and looking fabulous – through these spring and summer months. Not sure where to start?  In my experience, it's best to start with the end in mind. Where are you going? What are you dressing for?   Springtime brunches, summer weddings, warm days in the garden, and cool nights on the deck all call for something different to wear.  If you are looking to give up your usual jeans/leggings/t-shirts/sweatshirts, let's consider what to wear over the next few weeks.
Note: I am not paid to mention any of these items; there are no affiliate links. Also, all photographs are used with permission from Kannon's Clothing.
What to Wear to a Springtime Brunch*
*This can refer to any type of breakfast, brunch, coffee date, lunch, and afternoon tea you are going to this spring.  It also includes any spring business breakfast or spring business brunch, an afternoon tea with your mother-in-law, and yes, you could even make this outfit work for an Easter brunch.
A floral dress – this is the quintessential go-to.  I love wearing dresses because they are low-effort (to get ready) and high impact (I look all dressed up, and everyone asks me where I am going).  Win/win, right?  A halter dress also has a level of style that I love.
What to wear to a summer wedding
You may have noticed our trends are throwing it back to the 90s, and the 90s style satin skirt is happily welcomed back by me most of all! I loved wearing one of these chic satin skirts for their classic charm. Midi-length is fun, and ankle skimming has a certain sophistication to it.
On the other hand, if you want to make a bold statement at a wedding, I love this Eva Franco Zen dress. This + your favorite red lipstick?  That makes an entrance.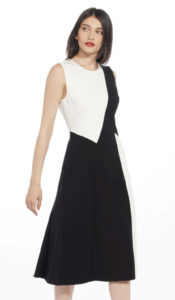 What to wear during these warm days
As the temps start to rise, I love to wear shift dresses.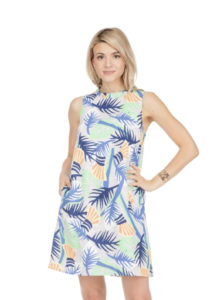 Add a fun pattern, and I'm all in!
Now, if I am working in the garden, I love to wear a good skort. You can get some sun on your legs, and it's okay if you get covered in a little dirt. This one even has built in SPF!
What to wear on these cool nights
Adding a little layer helps to keep from being too hot one minute and too cold the next. Add a little window pane sweater vest,
a dip-dyed cardigan,
or this Parkhurst Covi Wrap,
and you are making the evenings look good!
If you want to check these online, you can find them here:
J'ENVIE WINDOW PANE SWEATER VEST
Where to Buy your Springtime Outfits
Instead of
hunting online
figuring out the sizing
waiting a few days for it arrive
trying it on
deciding if it suits you
calling your husband from the next room to get his opinion
snapping a photo to send to your mom to get her opinion
getting frustrated because it didn't 'hang' right
packing it up
returning it
resuming the online hunt
consider a local spot where the owners are invested in helping their customers to get what they need. A local shop owner wants to help you find what you need because they're helping a neighbor. As you spread the word that they helped you to find just the right thing to wear, your friends will visit, and they will remember that you are the gal who helped them to match the right dress with the right person for the right occasion.  There's a magic in helping other people to look and be their very best selves.
Kannon's Clothing Women's
If you haven't been to their women's store in Cameron Village in Raleigh, consider treating yourself to a visit. I met the lovely ladies who run this family business when photographing the annual fashion show for the Sir Walter Cabinet.  They shared the story of Isaac George Kannon who lived by a simple maxim: "I'd rather you leave empty-handed than with a garment that is not right for you." (PS – That is a good shopping friend!)  It is Isaac's great-grandchild Mary Kannon who is involved in running the business today.
Leverage the Help
One thing I learned through this pandemic is that we all need to leverage the help. I do not relish spending hours searching for a dress to have it arrive in the mail to find it doesn't fit (if it arrived in time).  I would much rather call Mary Kannon to say, "I need an outfit for this event on this date. When can we meet to find something?"  Treat yourself to a solo date where you get to focus on you and what you need.  It will be time and money well spent.
I can't wait to see what you are wearing this spring!  Post your #OOTD and tag us on Instagram #barbarabellphotography and #KannonsRetail